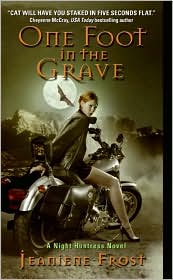 One Foot in the Grave had me captivated from the first chapter and it didn't let go until I finished it four hours later. Seriously people, if you haven't read Halfway to the Grave, then go out and get it so you can read this novel. Don't wait for the library to get it in for you, go buy it. NOW! Jeaniene Frost was one of the greatest impulse buys I've ever had and I would fanatically recommend her to anyone else.
Honestly, I love this series. I think I'm going to unpack Halfway to the Grave, just so I can read both of these novels again, back to back.
I have a more detailed review posted up at
my blog
.